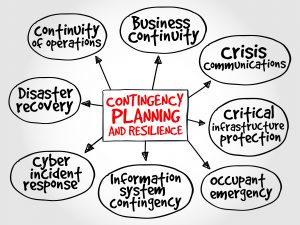 One of the best ways to measure readiness is through drills, wargaming, and exercises. MSA has led, designed, facilitated, and controlled over 100 full-scale, functional, and tabletop exercises. All our staff is trained in homeland security exercise and evaluation program (HSEEP) exercise doctrine. Additionally, we offer staff the rare FEMA Master Exercise Practitioner (MEP) certification.
From supporting the 2017 Presidential Inauguration to operational planning for the 2015 Papal Visit to designing/developing high-quality training for first responders in the DC Metrorail environment, MSA has the tools and strategies to help your organization prepare for the worst-case scenarios.
Federal Continuity of Operations (COOP)
MSA provides the requisite knowledge and credentials to design and develop plans, policies, protocols, and procedures to comply with or exceed requirements in Federal Continuity Directives and other applicable Federal regulations.
MSA has extensive experience designing Multi-Year Strategy and Program Management Plans (MYSPMP) that form a five-year roadmap to achieve short- and long-term continuity goals and objectives. MSA carefully designs MYSPMPs and the subsequent performance measures to not only mitigate programmatic vulnerabilities but also strengthen the efficacy of our clients' COOP programs.
Occupant Emergency Planning
An Occupant Emergency Plan (OEP) minimizes the negative impact of emergencies on personnel and property. We provide guidance and support through every phase of the OEP development process, using industry best practices and collaborating with local first responders, law enforcement, public works entities, and other building tenants.
Critical Infrastructure Protection
Planning for response and recovery is only half the solution; the other half is preventing disruption and protecting infrastructure. MSA can develop, update and maintain your Critical Infrastructure Protection program. We provide risk and vulnerability assessment, gap analysis, and strategic recommendations for implementation plans. As well as project management and coordination with multiple jurisdictions.
Exercise Design, Development, and Support
MSA has extensive experience performing training and conducting exercises with organizations of all sizes, ranging from large Federal agencies to multinational border security initiatives to higher education. Our preparedness training and exercises are customized to meet the needs of your organization.
Our certified exercise experts design all exercises based on measurable objectives and are focused on engineering evaluation strategies to ensure the proper data is collected and analyzed.
Training and Course Development
MSA delivers highly practical all-hazard emergency management training courses to professionals in government, the private sector, and non-profit organizations. Courses are developed using best practices and lessons learned from "real world" catastrophic events, major disasters, and complex incidents.
---
Small Business NAICS:
541611 – Administrative Management and General Management Consulting Services up to 16.5M
561499 – All Other Business Support Services up to 16.5M